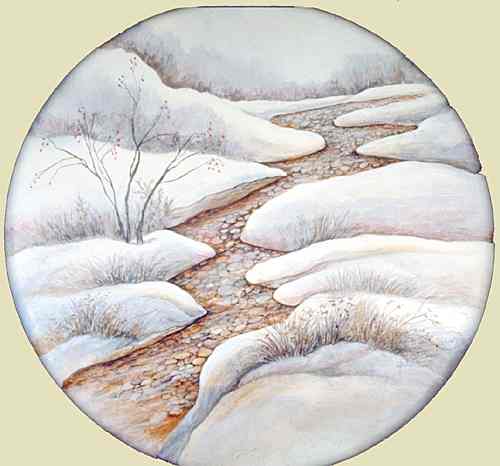 Eagle River # 3 by Margaret M. Glinke
A winter ski along the newly thawed Eagle River in northern Michigan gave me a new appreciation of the life and the song of the water rushing over the smooth stone bottom, that the river gave to its surrounding forest. Acrylic paint in grays, rose, terra cotta browns and whites covers a textured base of gauze, sand and modeling paste. The 47" stretched canvas is on a circular, convex stretcher that is remarkably light in weight Price $750.00.
The quality of the Margaret Glinke's fine art is much higher than we can show within limits of this web site. Slight tonal changes and blurring around the areas of strong contrast are a result of the JPEG compression process, and are not part of the high quality originals.