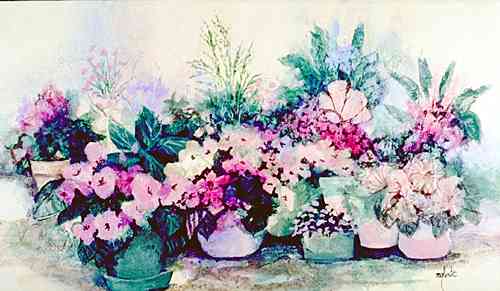 Flower Shop Window by Margaret M. Glinke
All the colors of the rainbow splash from this impressionistic collection of flowers in pots of various shapes. Take a few home with you to brighten that gloomy corner, or just to bring a smile as you gaze at the celebration they impart. The acrylic colors are glazed over the textures of gauze, sand and modeling paste, on the 18 x 30" white-washed oak framed canvas $300.00.
The quality of the Margaret Glinke's fine art is much higher than we can show within limits of this web site. Slight tonal changes and blurring around the areas of strong contrast are a result of the JPEG compression process, and are not part of the high quality originals.