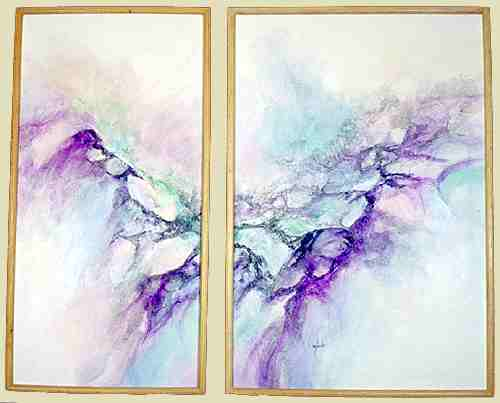 Washed Beach Stones by Margaret M. Glinke
Perhaps a walk along the shore in early morning is remembered. This is a diptych (two piece painting) of washed beach stones done as an abstract painting. The high key pallette is in blues and purples, with a sky of gold. Media: acrylic on an impasto ground of gauze, sand and modeling paste on stretched canvas, framed in white-washed oak. 18 x 36" & 24 x 36", Price $650.00.
The quality of the Margaret Glinke's fine art is much higher than we can show within limits of this web site. Slight tonal changes and blurring around the areas of strong contrast are a result of the JPEG compression process, and are not part of the high quality originals.