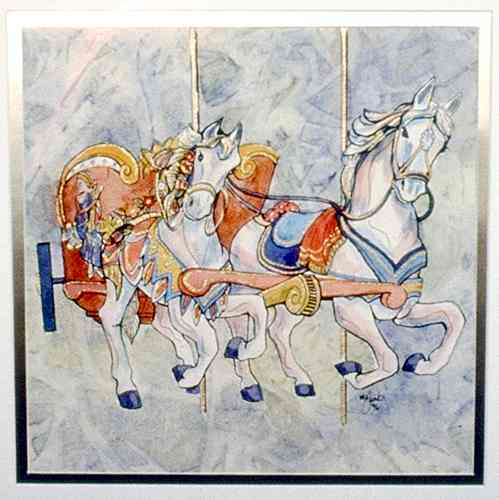 White Tandem Carousel Horses by Margaret M. Glinke
These unusual tandem horses are attached to a beautifully carved chariot and are at Canada's Wonderland Park, Maple, Ontario. (near Toronto) The Philadelphia Toboggan Company carved figures are large and intricate and can be ridden. The original Ink and water color painting has a light blue textured background, white horses, gold chariot with reds, blues and yellows with gilt accents, is in an 18 x 18" gold heavy metal frame with white linen and metallic liner, conservator framed, $200.00.
The quality of the Margaret Glinke's fine art is much higher than we can show within limits of this web site. Slight tonal changes and blurring around the areas of strong contrast are a result of the JPEG compression process, and are not part of the high quality originals.